Vampires of Vadin – Book 2
Author:  Shelby Rhodes
Release Date: 13 December, 2017 on BookStrand.com                   Price: $4.99
Reviewed by: Tai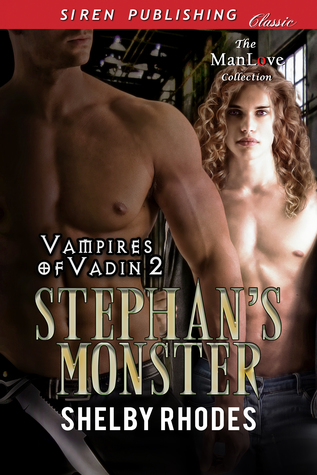 Cover Art:  Two men on cover. To the left is a nice hard body. The male to the right, his head and hair do not fit his body. Another paste job cover that does not do the contents of the story justice.  It is very easy to read the book title as well as the author's name.
Synopsis: The peek preview matches the storyline. Siren Erotic Romance heat rating is sextreme. Otherwise, there is no warning of adult content.
Plot: Jayden and Stephan are both dealing with past and present issues. While they are trying to get over their past to have a future, the past comes back to try to destroy them separately and what they feel.
Main Characters: This is a very character intertwined story, so it could be argued that there are many main characters.
Jayden- A 15 year old who is a vampire and can hear the thoughts of those around him without trying. He can also take others' memories as his own, erasing the memory of who he took them from. He has a monster inside him that likes the rage and the blood.
Stephan Everwood- A 20 year old business genius who is a Lydus blood elf. Being very powerful, he can open old wounds and create new wounds from a distance.
Liam Valence- Stephan's godfather and a powerful man.
Secondary Characters: Most of the secondary characters are very active throughout the story. Others that are mentioned play a key role. Some of the characters that we loved in Adrian's Bodyguard book 1 are continuing in this story including a very pregnant King Adrian and King Xavier.
Flow/Continuity: There was no break in the story. The thrill picked up from the beginning and kept going. The intimate scenes fit where they are placed in the story. With there being a surprise, this one feels like a cliffhanger.
Conflict & Climax: There are different relationships to consider. Jayden and his Monster later to be named Bow. The relationship between Jayden and Stephan. All relationships are well written and make you feel as if you know the characters. The climax would be hearing them confess they love each other as well as a surprise. No spoilers.
Editing/Formatting: There were no noticeable typos.
Priced:  In comparison to new book releases. It is definitely worth the price.
Conclusion: 
The second book in the Vampires of Vadin 2. There was also Adrian's Diary released on Shelby Rhodes page at https://www.shelbyrhodesauthor.com/  only to be read after Adrian's Bodyguard.
This is a series I will read time and again.
Rating:  9 out of 10 due to the cover.