Tripping – Book 1
Author: Ariel Bishop
Release Date: 14 Febuary 2018                  Price: $4.99
Reviewed by: Sophie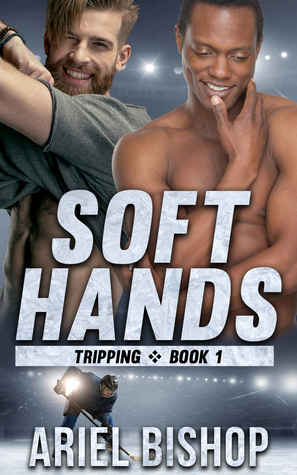 Cover Art: I have mixed feelings about the cover art. I like the typographical design of the font chosen for the cover. I love that it looks like snow or ice. I like the hockey player on the bottom part of the cover but I do not like the two men on the top portion. I just do not think that it blends well with the rest of the cover. They do fit in with the story and that is about the only thing positive about them.
Main Characters: Xander and Jordan have an interesting relationship. They are connected by work. Xander is a hockey player and Jordan is his team's massage therapist. They have a challenging relationship with each other. They start out as patient and therapist but move on to a friendship. The friendship turns sexual. They have a lot of hot sexual encounters both real and imagined.
Secondary Characters: They don't play a significant role in this story. They are there supporting the main characters, but the story is focused on Xander and Jordan.
Writing Style: I liked everything about this author's style. The narrative was nicely done. The author really gets into the characters minds. I loved the fantasy interludes. The sex when the characters fantasize is burning hot. I also liked the dialogue because it sounded natural when read.
Plot: This was very interesting. This is a sports themed romance which puts two different men on the long road to their happily ever after.
Conflict/Climax: The author has dealt with conflict in the story well.  The conflict in this story is generated by desire and the main characters' employment. The conflict is within themselves not on the outside.
Conclusion: I think that this story was a great way to begin a new series. Soft Hands has excellent main characters in Xander and Jordan. There were a lot of romantic scenes with a lot of intense sex.
For all these reasons, I award this story a 9 out of ten stars!