Road to Forgiveness #3
Author: Alice Shaw
Release Date: 13 June 2018                         Price: $0.99
Reviewed by Sophie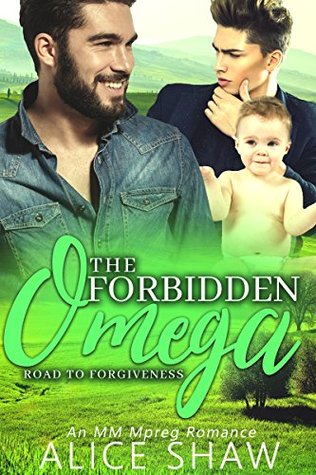 Cover Art: There are two things that I liked about the cover, the use of green and the baby. I did not like the male models. I think that they were too cut and paste. The men were not looking at each other or the baby. They did not look like they belonged to the story. I loved how the title was designed. The white lettering with just the omega in green was very nice.
Main Characters: Piper and Cole are childhood friends who reunite at a family funeral. Cole had run away from their cult-like hometown, but Piper had been too afraid to leave. The men love each other even after so many years apart. They are passionate about each other and they stand up for their love.
Secondary Characters: I hated the characters from Piper and Cole's hometown. They were full of hate and repression. They did not like the idea of anyone having the freedom to love who they loved.
Plot: It is a second chance romance with male pregnancy and a happily ever after.
Writing Style: I found this story very easy to read. I liked the narrative. I think that it was natural and gave the reader insight into the characters' thoughts. The story's point of view alternated from Piper to Cole every chapter. Also, I liked the dialogue. I think that it was done well.
Conflict/Climax: Piper and Cole face many challenges before they can get their happily ever after. Their challenges revolve around the cult community that they grew up in. Cole and Piper deal with challenges together successfully.
Editing: I found a few spelling mistakes in the advanced copy that I received which I found rather annoying, but I expect that they will have been changed for the published version.
Conclusion: This was a decent book to read. I liked the characters and their second chance romance.
For all these reasons, I award this story an 8 out of ten stars!